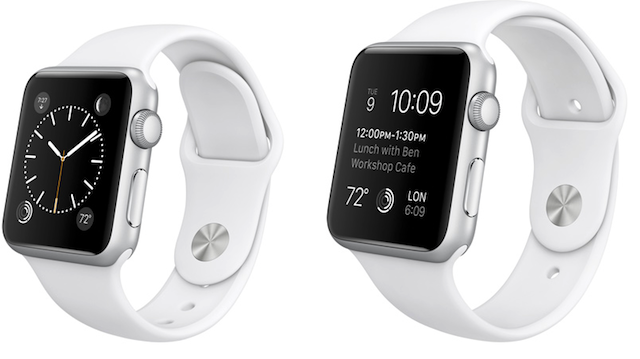 Apple says the Apple Watch – revealed alongside the iPhone 6 and 6 Plus in September – will launch in April.
Chief executive officer Tim Cook made the comments on an analysts call after the company posted profits of £11.8 billion for the three months ending December 27, the biggest quarterly profit ever by a public company.
Apple had previously said that its first wearable would be available in early 2015. It is unclear whether the Watch will launch in the UK at the same time. A launch price of $349 was previously stated.

It comes in silver and gold, with removable wrist straps available in red, blue, steel mesh, black and yellow.
The are four ways to input information onto the one-inch curved screen on then Apple Watch. The first is through a €˜digital crown€™ on the side of the device, which turns like a dial and can be pressed to navigate straight back to the home screen. It can be used to adjust settings, such as zooming in and out on a map.
Other ways of interacting with the device are through its touchscreen, a button located underneath the crown and through voice activation service Siri.
There is also a heavy focus on the user's health and fitness. The €˜Fitness'app tracks movement and calories burnt, while the €˜Workout€™ app act as a personal trainer based on the user's heart rate.

Users can set a workload based on a list of activities and can see how far, fast and long they have been exercising.
All information can be fed through to Apple's iHealth application for iPhone and iPad, where users can review their data in greater detail.
Apple Pay, which debuted on the iPhone 6 and iPhone 6 Plus launch event, is also featured on the Apple Watch, with the user able to wave their wrist over a terminal at a retailer's counter to pay for items.
The device also works as a remote control, with users able to control the music playing on their iPhone and iPad, as well as viewing pictures, through a Bluetooth connection. It is also capable of charging wirelessly through a charging pad.
It is compatible with the iPhone 5 and above and will launch early next year, priced at $349 in the US. Availability for the UK is yet to be announced.
Credit: mobilenewscwp.co.uk

Source: Fusion Communications Feed
Back to news